Your birth chart interpretation with karmic astrology, karmic Horoscope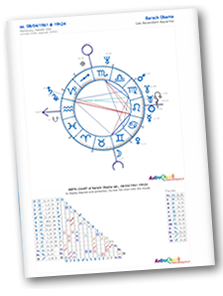 Patrick GIANI, the author of "Astrologie karmique : principes de base et pratique" (Ed. De Vecchi) helps you get a better knowledge of your Natal Chart with an additional interpretation of your karmic indexes (lunar nodes, dark moon, retrograde planets and part of fortune).
It's a complete analysis of all the astrological elements in about thirty pages (sign, ascendant, planets, houses, aspects and astronomical indexes). Your private life, your professional skills, your strengths and flaws are analyzed in a very clear language. This powerful research helps you get better in touch with yourself in order to strive for the best.